Nan Rae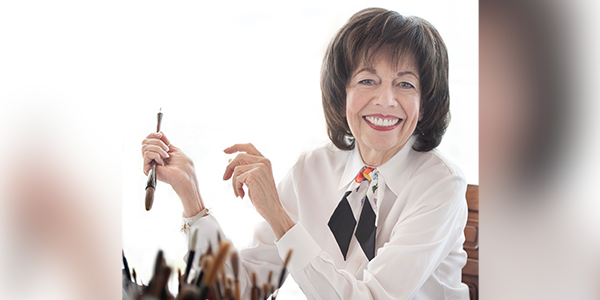 Live Joyfully

Nan Rae
Nan Rae attended The Music Center's 43rd Annual Very Special Arts Festival for children of all abilities. This year's theme, Arts Heal L.A., was very timely for the first in-person festival since the start of the pandemic. For the past two years, the festival has continued online, and the excitement of this year's live festival was palpable. "Seeing all these children and the love, care and attention given to them by dedicated angels was overwhelming. I had no idea The Music Center had been doing such an amazing event for 43 years! These precious children need so much, and this is a wonderful way to make them feel important and the stars of the day!" said Nan.
Nan Rae is not only an internationally renowned artist in Chinese brush painting, but also a teacher, author and entrepreneur. During the pandemic, Nan published two beautiful books, That's Just What I Needed Today and What If. The books are filled with inspiration and Nan's stunning artwork. Her unique approach to Chinese brush painting combines the grace of the literati style with an impressionist approach to color. In the literati style, no sketches are prepared, and no models are used, but rather the artist paints with rapid, intuitive movements of the brush that convey a "mind image" of the subject. Nan's art has been licensed for greeting cards and is sold in gift stores and museums across the globe.
Nan's gracious heart and joy of life is clear in everything she does, and helping others is core to her being. She is profoundly grateful for her life and lives each day with purposefulness. She has worked with more than 4,000 students and has seen the amazing changes that can happen through art. Nan says, "Art is my work, but teaching is my purpose. It is wonderful being able to do the thing you love and to share it with others." Nan's light-filled art studio also reflects her personality; it is open and engaging, and her artwork adorns the walls, while her many artistic pursuits fill the space.
Nan was so moved and inspired by the Very Special Arts Festival, she immediately established a charitable gift annuity and made provisions in her estate plan to support the Festival for future generations of children. It is her hope that others will be inspired too and give to The Music Center to support this wonderful event. As Nan likes to say, "Live joyfully!"